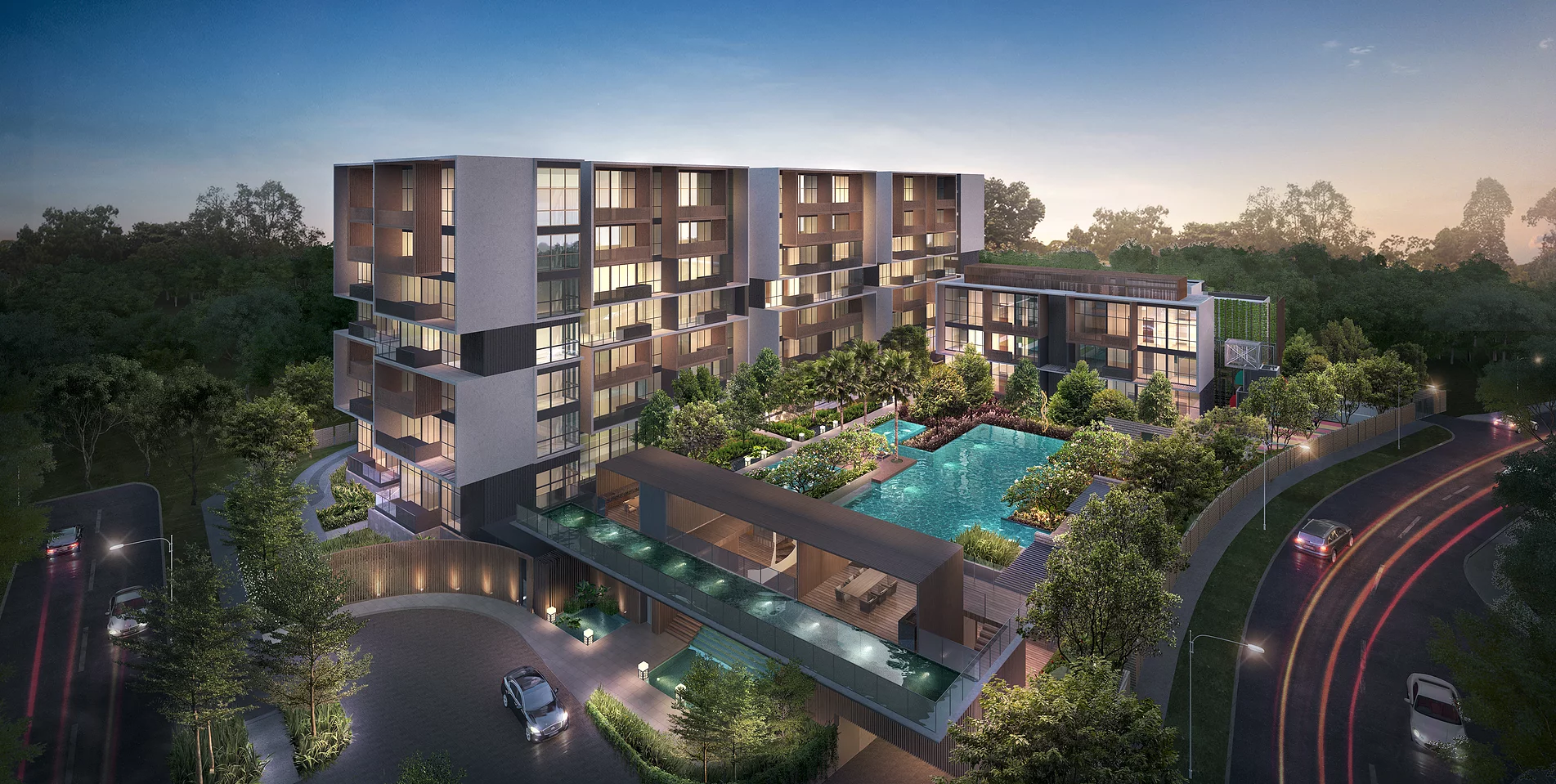 a home in nature
Enquire Now Northbound of Singapore, Kandis Residence is located in an idyllic location alongside low-rise landed housing, on a site area of 7,045 sqm in Sembawang. The 130-unit condominium project consists of four residential blocks, one three-storey block and three seven-storey blocks, surrounded by landscaped facilities.
A design concept for well-living within a green sanctuary, the project is envisaged as "homes-in-the-woods". The development sensitively responds by stepping down the building height to the low-rise neighbours, formingan L-shape backdrop that defines a central pool. A new communal ground level mitigates the site levels and opens a welcoming frontage. A cascading water featurefalls from the clubhouse to the drop-off level, creating a memorable sense of entry. Vehicular traffic is safely directed at the entrance to a covered carpark on the basement level.
The daily route of returning home brings one through choreography of sensory spaces. The neatly-lined residential blocks open up green social spaces with a rich array of interesting amenities – large pool lap with a sunning lawn, vertical playground, outdoor fitness facilities and layered landscape elements. Detail is given to the interstitial spaces, cosy inter-block courtyards, exercise lawns and walkways lined with lush green, connecting relaxing routes through the development.
Modernist box frames punctuate the façade; the simplicity is expressed in an elegant configuration. The calm colours of the façade subtly fade into the background for the flourishing green oasis. The development holds a unit mix of one to three bedrooms, which are meticulously crafted with clean layouts and simple colour schemes. The bedrooms are mainly front-facing, while kitchens and bathrooms overlook into the inter-block courtyards, an upliftingly bright and airy home environment.
The development is close to facilities like Sembawang Park and Community Centre, and the vicinity is designated for new roads and future development. Kandis Residence is an ideal home location encompassed by lush green with clean details, a choice destination for home buyers.

If you have any feedback or questions, please complete the form below: